Riga, the capital of Latvia
, was officially founded in 1201. Riga is located along the Baltic Sea at the southern coast of the Gulf of Riga. The historical core of Riga is situated on the right bank of the Daugava River. Riga has given many pearls to the culture of Europe and the world. Riga is well known because of Old Riga, Art Noveau, and wooden architecture. An elusive value is the multicultural environment that has been characteristic from the very beginning, since people of many various nationalities have lived here together – Latvians, Germans, Russians, Poles, Swedes, Finns and others. This variety through Johann Gottfried Herder and Immanuel Kant has played an important role in development of the German Enlightenment Philosophy, has been the cradle for the cinema genius Sergey Eisenstein, philosopher Isaiah Berlin and an asylum for the opera grand Richard Wagner, and for centuries has been a source of inspiration for a range of other famous European people.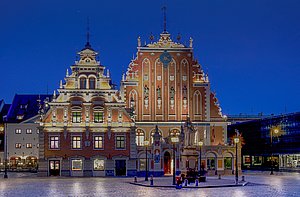 For more information please visit:
In 2018, Latvia will be celebrating it's 100 years
! It means a lot for a country like Latvia. Here you will find all the necessary information related to this significant event:
Latvia 100
For more information about Latvia please visit:
Latvia.eu - offers the basic information on Latvia, its history, culture, traditions, and current events, as well as photos and videos on various topics.